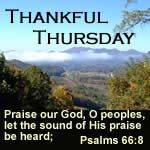 It's Thankful Thursday once again.
Everyday I have many things to be thanks for: I can't stop giving thanks to our God who is my strength, my ROCK in my everyday endeavour:
1. I am very thankful after I was accepted in my online school. 2. I am very thankful for all the opps available to thsis blog from the past week. 3. I am very thankful that I got satisfied score on the first week of my masteral course. 4. I am thankful that inspite of financial struggle, I was able to cope every bill I had. 5. I am thankful that during time of loneliness, depression there are friends who listen to my rants.
4. I am thankful for sister and brother in christ that who always there for me. Who always listen and give me spiritual advise.
5. Lord.. Thank You so much in EVERYTHING.. Thank you for holding my hands ..Guiding me and for not forsaken me even I am not perfect...