TO ALL MY VISITORS, GUEST, AND EC DROPPERS FOR JULY
ESPECIALLY TO THE TOP TEN

Tuesday, July 27, 2010
Do you know what God wants to do for us as we sleep tonight? He wants to make us beautiful...to bring the inner radiance which He has placed within us to the surface. As one man put it, "God desires to love forth our beauty"...the beauty that was created in His image. Right now, Christ is preparing His bride! He is restoring
"The voice of joy, and the voice of gladness, the voice of the bridegroom, and the voice of the bride, the voice of them that shall say, Praise the LORD of hosts: for the LORD is good; for his mercy endureth for ever: and of them that shall bring the sacrifice of praise into the house of the LORD. For I will cause to return the captivity of the land, as at the first, saith the LORD."
(Jeremiah 33:11kjv)
He is getting ready to come back for His beloved, but before He does, one thing must occur. Each one of us will soon be so filled with Him...so overflowing with joy and love that a new kind of "witnessing" will start to take place. This will not just involve preaching to people, leaving tracts on their windshields or asking them, "Do you know Jesus?" It will mean radiating the real thing, Christ Himself, through the new beauty and new song He is working in each of us in our daily lives. As the Psalmist David proclaimed,
"Make me to hear joy and gladness; that the bones which thou hast broken may rejoice.Restore unto me the joy of thy salvation; and uphold me with thy free spirit. Then will I teach transgressors thy ways; and sinners shall be converted unto thee."
(Psalm 51:8, 12-13, KJV).
What a powerful force joy is! To think that through it God will use us to teach and convert sinners is an incredible truth. Surrender to the beauty and joy He wants to work in us now... even as we sleep.

Monday, July 26, 2010
I'd like to share a story that will give you the sweetest dreams imaginable...the story of the ancient Jewish wedding tradition. We get so caught up in the work of serving Christ that we may lose sight of the end result: the union of the bride and groom! So lie back, relax and enjoy this ritual that is so full of symbolism for all God's people. Wedding plans were initiated when the prospective bridegroom left his father's house and traveled to the home of the future bride. There, a price had to be paid to secure the bride. Once paid, the marriage covenant was considered sealed, although they were not yet physically joined. At this point the bride was "set apart," the betrothal being finalized when the bride and groom drank from a cup. The groom then returned to his father's house for one year, preparing their living quarters in his father's home. The bride assembled her wardrobe and prepared for married life. Likewise, Christ's bride is getting ready today. God has sent apostles, prophets, evangelists, pastors and teachers :
"For the perfecting of the saints, for the work of the ministry, for the edifying of the body of Christ: Till we all come in the unity of the faith, and of the knowledge of the Son of God, unto a perfect man, unto the measure of the stature of the fulness of Christ:"(
Ephesians 4:12-13kjv)
After the year, the groom left his father's house to get the bride. Although she expected him, she didn't know the exact time, so his arrival was preceded by a shout! Sound familiar? Yes, get ready. Jesus is coming soon!...

Sunday, July 25, 2010
My girlfriends and I are planning to have a picnic in the park and everybody. Each of us will bring different food. While we are talking about food, M told us that she is planning to attend some cooking courses because she wants to get new knowledge about cooking. I mentioned to her the
cookery school
I found online while I am browsing. This new midlands-based cookery school provides new skills and fresh ideas with food. For sure, her hubby will be very happy in her decision to use her free time in cooking. Therefore, guys if you want to learn some ideas about cooking do visit their site
http://www.seasonedcourses.com/
.

David expresses in Psalm 77 the same powerful emotions that we may feel in our life. He was in great distress, crying to the Lord with a soul that "refused to be comforted." God seemed an endless distance away as David reminisced about the days when he sang in the night to the Lord. This made him feel even more depressed, unloved and rejected. If you're one in this condition or situation, moaning, "How do I get out of this mess? How can I be restored?" The first step was to recognize Who God is. The second step was to remember! Remembering pulled David out of his rut.
"I will remember the works of the LORD: surely I will remember thy wonders of old. I will meditate also of all thy work, and talk of thy doings. Thy way, O God, is in the sanctuary: who is so great a God as our God? Thou art the God that doest wonders: thou hast declared thy strength among the people."
Why is remembering such a powerful force? Because when you remember what God has done in the past, you will realize that He wants to perform just as powerfully now and in the future. So stop for a moment. Think of what God has saved you from since you were born again. Remember, He hasn't changed; He still wants to perform miracles.

Saturday, July 24, 2010
This is a Sponsored Post written by me on behalf of iNetVideo. All opinions are 100% mine. Being alone is hard sometimes; every time I came home, I feel the emptiness. What can I do to fight for these lonely nights? One of my past times when I am home is watching movies in my own living room. I always look for good blu-ray movies subscription online, until I stumbled upon this site called iNetvideo.com. It is founded in 1999 and since then they offers a wide range of movies on DVD, HD DVD, Blu-ray, video games and music CDs for less! In this case, I can buy numbers of movies in Blu-ray and for sure, I will enjoy my nights more. iNetVideo has the most comprehensive listing of various discounts DVDs, cheap Blue-ray movies, and even video games at the most lowest price you can get. They also carry a huge selection of movies. They also carry a huge selection of movies ranging from Action movies on Blu-ray to fitness and Kids DVDs which means you'll definitely find something that suits your taste. So if you want to experience a total entertainment for LESS visit iNetvideo and find good deals for free shipping. One more thing. They one of the largest liquidators of entertainment products with offices based in the United States and in Canada. Not only that, if you become a guest blogger in this company, you have the chance of getting free movies from them. Check them out now and find out how you can join the monthly Blu-ray player giveaway!
Wednesday, July 21, 2010
"Lord, I wish I could just walk away from this mess and never see or deal with it again!" How many of us have headed for bed with this cry on our lips? At one time or another, the "fly away" bug hits us all. Mothers shut in with their children all day, businessmen trapped in the pressures of making crucial decisions, and fathers working two jobs so that their families can survive are among those who wish they could run away at times and never come back. But, at the same time, we may feel guilty about our "escape dreams," but you needn't. Even David dreamed of escape when he sang to the Lord: And I said,
"Oh that I had wings like a dove! for then would I fly away, and be at rest. Lo, then would I wander far off, and remain in the wilderness. Selah. I would hasten my escape from the windy storm and tempest" (
Psalm 55:6-8 KJV)
The important factor is that after his fantasy was over, David returned to reality and took active steps to resolve the dilemma which made him want to "fly away" in the first place. He didn't "desert the ship." David decided to cast the whole depressing situation on the Lord. He concluded his song by saying, "I trust in you" (verse 2). If you're in a "fly away" mood, don't do anything foolish! Don't physically run away. Go to the Lord instead. Give up the burden to Him first. It's hard to fly like a dove with a weight around your neck... GOD BLESS US ALL...

This is a Sponsored Post written by me on behalf of Ashworth College. All opinions are 100% mine. Since I graduated in college I always wanted to further my education. I want to get some masteral degree or even any short courses. However, to think about it is so hard especially if you are working like a cow. This is one reason also why some mom's at home cannot further their education because of some reasons that, they have kids and husband to take care of. No worries about all this, Distance education is a family-friendly way to help you get the education you have always wanted. It is easy, affordable, and is as close as your home computer. This is one best way for people like us who work like a cow and no time to attend regular classes. There are many institution who offered online classes but I find Ashworth College is just one of the best schools offeringOnline degree classes. They give the student a flexible scheduling curriculum that will fit your busy life. I was so amazed when one of my girlfriends mention it to me about it, and convinced me to check their website. Research shows Ashworth tuition is 50% less than the average accredited online school. Not only that tuition includes all books and course materials. They offer zero-interest financing plus a low monthly payment plan. Monthly payments can run as low as a couple of large pizzas can. Unlike other programs, you are guaranteed to graduate without student loan debt. You can also transfer up to 75% of credits earned at other schools. Ashworth College offers more than 100+ nationally accredited career diplomas, from Associate Degree, Bachelor's Degree, Master's Degree and Certificate programs for today's hottest and most popular careers, including Medical Billing, Web Design, Bridal Consulting, Interior Decorating, Human Resources, Marketing, Early Childhood Education and more. So guys what are you waiting for let us go and be an example for our kids. Let us further our education.
Monday, July 19, 2010
Some of us may be suffering from trying to carry our burdens all by ourselves. "I couldn't possibly tell anyone about this," you think. "It's too terrible; no one would understand." SOme of hidden secrets are unwed daughter's pregnancy, Another couldn't tell anyone he was going bankrupt. A married woman had insomnia for months because she'd fallen in love with another man and was afraid to tell another soul. "They'd only condemn me" were the thoughts we all had. If some such "secret" is eating at you tonight, I can understand how hard it is to share with, but here's the problem. If you don't share the struggles, you might not share the victories, and God desires that you share them both. He wants us to "rejoice with those who rejoice and weep with those who weep." He then wants us to declare the victories in public as a tool for building up His Body in encouragement, faith and hope. He says,
"Oh that men would praise the LORD for his goodness, and for his wonderful works to the children of men! Let them exalt him also in the congregation of the people, and praise him in the assembly of the elders."
( Psalm 107:31-32).
Take a brave step tonight, and share your burden. Give a brother or a sister the privilege of standing with you in prayer, both in the battle and in the victories ahead.. Just Make sure to share your burdens in right person. A person that can help you for better. I can say this because it's happened to us. Before we got divorce, Mr. L share his problem with one of our brother in the church and instead he gave a good advice, he told Mr. L not to come home for two weeks and they hide him in their house. What an evil advice.. so beware of false adviser....God Bless You All...

Monday, July 12, 2010
One brother in christ share this video and I want to share it back to all my friends, visitors, and readers of this blog..BE BLESSED....
PLEASE SPENT TIME TO WATCH THIS VIDEO,,,,,PLS......

Saturday, July 10, 2010
Are you squirming in bed thoroughly ashamed of yourself over the way you've behaved today? Perhaps you've "gotten even" with someone, returned an insult for an insult, or spent the day planning, "If so-and-so does this to me, I'll do this to her." Did someone's treatment of you determine not only your reaction but your conduct for the day? It is understandable how this happened, but as one brother put it, "The best revenge on an enemy is not to be like him." So, instead of letting your sleep be disturbed over the way you reacted, repent of your overreaction and rest in the assurance that you can be an overcomer tomorrow. How? Ask the Lord to forgive today's rash actions and as you close your eyes, fill your mind with the picture of how God wants you to act (instead of react) from now on. Let the seed of His Word stir your spirit as you hear Him say, "
Not rendering evil for evil, or railing for railing: but contrariwise blessing; knowing that ye are thereunto called, that ye should inherit a blessing."
(1 Peter 3:9)
To think that we can inherit a blessing from God merely by responding in the right way to people who hurt us is an incredible truth. I truly beleive and understand that this is really really hard to do. Even myself until now , still struglling to give total forgiveness to a person who really really hurts me, and almost destroy me. But our God is a faithful GOD....

Friday, July 9, 2010
There are times when I'm almost overwhelmed by the courage many of us exhibit during trials...especially long trials that seem to go on forever. But you and I both know that tribulations don't go on forever. Sooner or later, the raging fire or the deep waters come to an end and the Lord...brings out those who are bound into prosperity...(Psalm 68:6, KJV).
God setteth the solitary in families: he bringeth out those which are bound with chains: but the rebellious dwell in a dry land.
Like a prisoner who is suddenly released, "daylight" can be quite a shock. In fact, we may even have trouble. Believe it; it's true! This can cause sleeplessness as we lie awake praying, "Lord, is this breakthrough of me? Do I dare take this promotion or is it a trap? Could this really be happening? If so, why after all this time?" Let the Lord relieve our mind that this goodness is of Him. Listen to the words of David as he said
,"For thou, O God, hast proved us: thou hast tried us, as silver is tried. Thou broughtest us into the net; thou laidst affliction upon our loins. Thou hast caused men to ride over our heads; we went through fire and through water: but thou broughtest us out into a wealthy place.
Wednesday, July 7, 2010
This is a Sponsored Post written by me on behalf of Smingle.com. All opinions are 100% mine.
According to a Harvard Study (2006), "Virtual Dates cause individuals to develop greater affinity toward one another when they actually meet."The new cutting edge is interactive, virtual dating somehow results in more self disclose relationship. Somehow, there are happy and successful marriages thru virtual dating but at the same time there are some failures too. I believe two souls will meet in any ways as love Moves Mountains. I am one of the living testimonies about virtual dates; we live 8,000 miles away from each other. My other half does not even know which part of the world I am. However, thru constant communication we know each other well. However, unfortunately when we meet we cannot see some personal traits during our online dates. I believe some have happy ending and I was not saying that I would not try one more time to find my right one. If you want a true and reliable site try virtual dating. There are few advantage about this site, you can get to know the person behind the profile, Play "get to know me" games like Love Match - see if you match, Very intuitive way to chat and get to know each other. Virtual dating saves you time, money, and help avoid disappointment because you can take your time and get to know each other before you rush off to meet. It is a lot of fun – and a very exciting way to meet people. You can create a fun 3D avatar that looks like you (you can customize by changing your clothes, your hair, etc.) and your lifelike 3D avatar can flirt (you've got to try this) . AND HAVE FUN.
Thursday, July 1, 2010
Is your head throbbing as if you've spent the whole day banging your head against a wall? "Why can't I get through to people? Why don't they listen or do what they're told? What more can I do?" you moan. When God says something once, it's important. When He says it twice, it's crucial. He showed two separate scriptures which say,
"Thou hast also given me the shield of thy salvation: and thy gentleness hath made me great."
(2 Samuel 22:36; Psalm 18:35).
Thou hast also given me the shield of thy salvation: and thy right hand hath holden me up, and thy gentleness hath made me great.
It was the scene in the Bible where the apostles had been fishing all night and caught nothing. Jesus called to them. "'Friends, haven't you any fish?' 'No,' they answered.
He said,"Then Jesus
saith unto them, Children, have ye any meat? They answered him, No. And he said unto them, Cast the net on the right side of the ship, and ye shall find. They cast therefore, and now they were not able to draw it for the multitude of fishes
."(John 21:5-6, kjv).
For our purposes, let's say there are two ways we can influence (or catch) people. It can be done through the power of the flesh, banging your head against the wall, or through the power of the gentleness of His Spirit. As the prophet Zechariah said,
Then he answered and spake unto me, saying, This is the word of the LORD unto Zerubbabel, saying, Not by might, nor by power, but by my spirit, saith the LORD of hosts.
Have you been trying to get things done by casting your "net" out the wrong side of the boat...the side of fleshly power or control? If so, try fishing out the other side...the side of His gentleness. You may be astounded at the "catch.
HAVE COMPASSION AND BE GENTLE..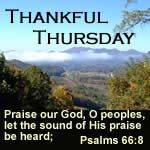 It's Thankful Thursday once again.
Everyday I have many things to be thanks for: I can't stop giving thanks to our God who is my strength, my ROCK in my everyday endeavour: (Apology if I missed last week) 1. I am thankful because I was able to pay my bills

2. I am thankful for extra work hours this week, God knows I need more earnings to pay some unexpected expenses.

3. I am thankful for some coupon money I got from my job as rewards for hardwork.

4. I am thankful for sister and brother in christ that who always there for me. Who always listen and give me spiritual advise.

5. Lord.. Thank You so much in EVERYTHING.. Thank you for holding my hands ..for not forsaken me even I am not perfect...