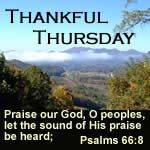 It's thursday once again,, Sorry for little bit late post...
I had many things to be thankful for this week. 1. I'm thankful for my job, for kind co-worker 2. I'm thankful because every I reached my sales goal more than 100% everyday. 3. I'm thankful because my sisters back home is now attending christian services. 4. And I am very thankful for the PEACE that I had in my heart now..
THANK YOU LORD IN EVERYTHING.....