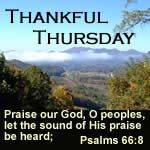 THANK YOU JESUS IN EVERYTHING
1. I thank God for the strength I had to face the challenge of LIFE
2. I thank for the job he bestowed to me.
3. I thank God to all my new co-worker who always patiently guide me to do my job better.
4. I thank God to my family back home who always gave me a moral support whatever happen
to me.
5. I thank God for peace that I had in my heart now, and for the peaceful night everyday.
6. I thank God for good health, including all my families, friends, and even my enemy.
7. I thank God for not forsaken me even I was not a perfect one.
8. I can't stop thanking GOD in everything,, even in this time of trials.. He always hold my hand...