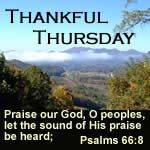 It's Thankful Thursday once again.
Everyday I have many things to be thanks for: I can't stop giving thanks to our God who is my strength, my ROCK in my everyday endeavour: (Apology if I missed few weeks)
1. I am very thankful in all new open doors God showering me..
2. I am very thankful for my job that given so much opportunity and boost myself to grow up.
3. I am very thankful that after everything happen to me, Im here standing on my feet and I cant do all this without HIS GUIDANCE.
4. I am thankful for sister and brother in christ that who always there for me. Who always listen and give me spiritual advise. 5. Lord.. Thank You so much in EVERYTHING.. Thank you for holding my hands ..Guiding me and for not forsaken me even I am not perfect...