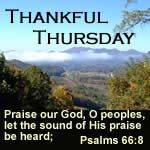 It's Thankful Thursday once again.
Everyday I have many things to be thank for: I can't stop giving thanks to our God who is my strength, my ROCK in my everyday

endeavour:

1. I am thankful again and again for my job and all my good co-worker both in my part time job. 2. I am thankful in everything I received , in everyday of my life. 3. I am thankful for my health 4. I am thankful for the opportunities God gave me to do good deeds to others. 5. I am thankful for the good chance in my job that after working of less than a month , now they made me permanent.. God is Faithful .... 6. I am thankful in all the trials that I've been through because It teaches me what is Life all about. 7. And Last I am thankful IN EVERYTHING...