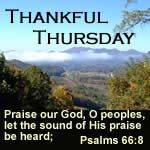 It's Thankful Thursday once again.
Everyday I have many things to be thanks for: I can't stop giving thanks to our God who is my strength, my ROCK in my everyday endeavour: (Apology if I missed last week) 1. I am thankful because I was able to pay my bills

2. I am thankful for extra work hours this week, God knows I need more earnings to pay some unexpected expenses.

3. I am thankful for some coupon money I got from my job as rewards for hardwork.

4. I am thankful for sister and brother in christ that who always there for me. Who always listen and give me spiritual advise.

5. Lord.. Thank You so much in EVERYTHING.. Thank you for holding my hands ..for not forsaken me even I am not perfect...